Your Guide with Area Information about Bodrum

Short Introduction of Bodrum

The Bodrum Peninsula, located on Turkey's southwestern coastline, is a captivating destination with ancient roots within the province of Muğla. Bodrum, originally known as Halicarnassus, was an ancient Greek city where Poseidon, the Greek God of the sea, was likely revered by its inhabitants. Over the centuries, Bodrum witnessed the rise and fall of empires, from Persian rule to the conquest by Alexander the Great in 334 BC. One of Bodrum's iconic landmarks, the Bodrum Castle, constructed in the 1400s as a defensive fortification by the Crusaders, has seen various roles, including serving as an Ottoman prison and a public bath-house.
From the days of Homer's "Odyssey," where Bodrum was mentioned as Halicarnassus, this region has attracted poets, singers, artists, and statesmen. Even the famous duo, Antony and Cleopatra, once made a stopover here on the route to Rome. In the modern era, Bodrum has continued to draw prominent figures, from Hollywood stars like Tom Hanks and Nicole Kidman to rock legends such as Mick Jagger and Sting.
Bodrum enjoys a hot Mediterranean climate with summer temperatures averaging 34°C and approximately 337 hours of sunshine in July. Winters are mild, with an average temperature of 15°C.
The infrastructure in Bodrum is modern and impressive, boasting top-notch hospitals, excellent private international schools, three large shopping malls featuring the latest fashion brands, marinas, golf courses, tennis clubs, and a high-quality transportation system with well-maintained roads.
Milas-Bodrum International Airport, just 35km away and a 36-minute drive down the modern D330 highway, was upgraded with a new international terminal in 2012, capable of handling over 5 million passengers annually.
Bodrum's cosmopolitan and trendy atmosphere makes it suitable for year-round living, and it is the favored place where wealthy Turks choose to have their second homes. The area hosts a diverse and welcoming expatriate community, including Northern Europeans, individuals from the Gulf states, and even those from the United States.

Bodrum Houses for Sale: Your Piece of Luxury
If you're in search of Bodrum houses for sale, you're in luck. Bodrum offers a variety of properties to suit your preferences, whether you're looking for Bodrum luxury villas or charming apartments. Aegean Locations is a licensed real estate agency in Bodrum and has a wealth of options to explore, ensuring you'll find the perfect Bodrum property to call home.

Apartments for Sale Bodrum
For those seeking apartments for sale in Bodrum, there are numerous opportunities to buy a house in Bodrum that matches your lifestyle. Bodrum's luxury estate options provide an array of amenities and breathtaking views, making your Bodrum property a haven of comfort and style.
Houses for Sale in Bodrum Turkey
Bodrum houses for sale in Turkey offer a unique chance to own a piece of this enchanting coastal town. Whether you're looking for Bodrum luxury villas or cozy apartments, Bodrum's real estate agency has the expertise to guide you through the process. Your dream Bodrum property is just a step away.
Bodrum Real Estate: More than Just Property
Beyond the allure of Bodrum houses for sale, this region offers a blend of natural beauty and modern living that's truly exceptional. Bodrum's picturesque beaches, vibrant nightlife, and rich history make it a destination like no other. With Bodrum's real estate agency by your side, you can embark on a journey to discover the perfect Bodrum property.
In Bodrum, the options are limitless, whether you seek Bodrum luxury villas with stunning sea views or apartments for sale in the heart of the town. Explore the Bodrum real estate market and find the property that suits your desires and aspirations.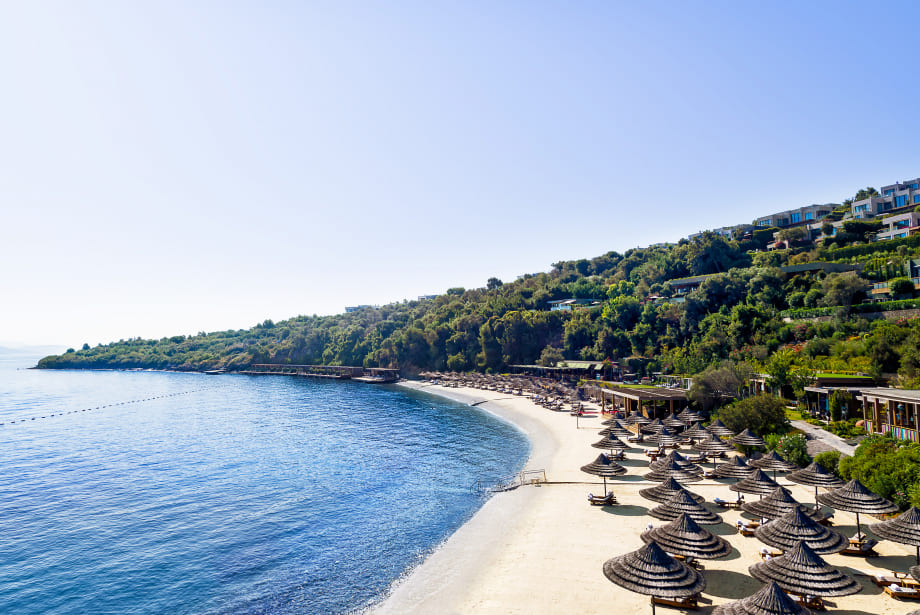 Bodrum Beaches: Your Slice of Paradise
The Bodrum Peninsula boasts an array of stunning beaches that cater to various tastes and interests. Whether you seek thrilling water sports, tranquil natural coves with pristine sands and crystal-clear waters, or simply lounging on a sunbed while enjoying breathtaking vistas, Bodrum's beaches have it all.
Bitez Beach Bodrum
Just 9km from Bodrum, Bitez Bay offers a long sandy beach equipped with comfortable sun loungers, parasols, and even hammocks. Lining the beach, you'll find a variety of restaurants, cafes, and bars offering mesmerizing sea views, refreshing cocktails, soft drinks, and delectable meals. Bitez Bay's shallow, warm, blue Mediterranean waters are ideal for family-friendly paddling and thrilling water sports like jet skis, banana boat rides, and parasailing. You can also learn to windsurf in the tranquil morning waters or join the advanced group to tackle the livelier afternoon waves.
Yahsi Beach Bodrum
Yahsi Beach is renowned as one of the finest beaches in Turkey, featuring clear waters, a pristine shoreline, and a selection of charming restaurants and cafes. The pedestrianized road behind the beach is perfect for families, and sunbeds are available right at the water's edge, often provided free with the purchase of a snack or drink at one of the restaurants. Yahsi Beach is conveniently located in Ortakent, just 9.5km from Bodrum town center and easily accessible via the dolmus route.
Gumbet Beach Bodrum
Gumbet Beach boasts a gently curving kilometer of soft, golden sand and is known for its family-friendly atmosphere. The beach offers a variety of bars, restaurants, and cafes, along with ample sun loungers and umbrellas for those seeking shade. Children can safely splash in the calm, shallow, blue waters, while teens can enjoy banana boat rides and waterskiing. Gumbet is situated 4.6km from Bodrum and is easily reachable by dolmus.

Shopping in Bodrum: Retail Therapy Awaits
Bodrum offers a wealth of shopping options to satisfy your retail cravings. Whether you're hunting for fashion, souvenirs, or fresh produce, Bodrum has you covered.
Old Town Bodrum
Bodrum's charming old town, near Bodrum Castle, features cobblestone streets lined with upmarket boutiques and stalls selling a wide array of goods. Here, you can find the latest fashions, leather goods, souvenirs, art, crafts, silks, fabrics, as well as a diverse selection of restaurants, bars, and cafes. The old town also hosts several ATMs from different banks.
Midtown Shopping Mall
Located in Ortakent, just 18km from Bodrum town center, the contemporary Midtown Shopping Mall offers a modern shopping experience. Browse through a variety of shops selling top international brands, including a Marks and Spencer outlet. You'll also find a Decathlon sports shop, ideal for swimwear and swimming goggles. The mall houses supermarkets for your essentials and a food court, which includes a Starbucks. Additionally, there's an entertainment center with a cinema and a play area for kids. The Midtown Shopping Mall is conveniently situated along the Metro bus route.
Milta Marina Shopping Centre, Bodrum
Nestled next to Bodrum Marina, the Milta Marina Shopping Centre is a small upscale mall featuring designer boutiques in air-conditioned comfort. Nearby, you'll discover several cafes and restaurants. This mall's location is a pleasant few minutes' walk from the old town center, just west of Bodrum Castle.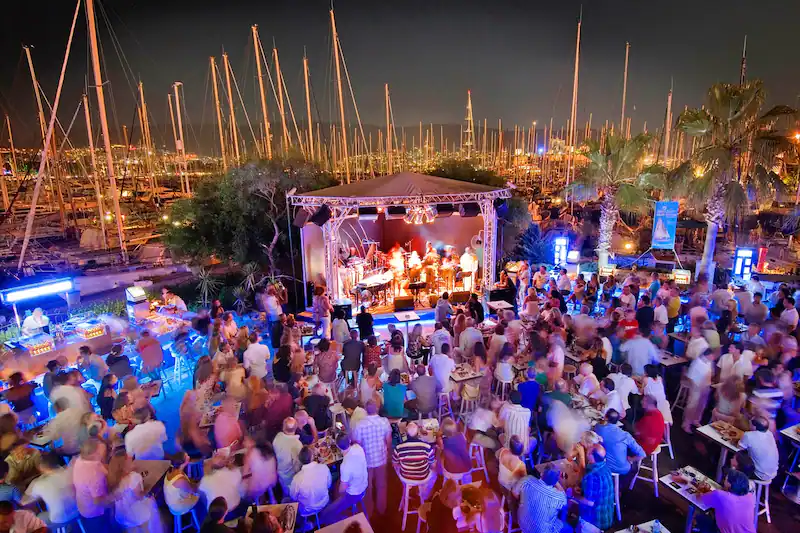 Bodrum Nightlife: When the Sun Sets, the Fun Begins

Bodrum: Where History Meets Vibrant Nightlife
Bodrum isn't just renowned for its rich historical heritage and picturesque beaches; it's also a hub of lively nightlife. This town offers an array of options for those seeking to immerse themselves in Bodrum's nightlife scene. Whether you're in the mood to dance the night away at a club, savor a laid-back drink at a rooftop bar, or party beneath the stars on a boat, Bodrum has something to offer everyone. In this guide, we'll explore the top places to experience Bodrum's vibrant nightlife.
The Nightlife & Clubbing Scene of Bodrum
Bodrum boasts a lively nightlife scene that caters to all tastes and preferences. The town is known for its luxurious beach clubs, rooftop bars, and nightclubs. Unlike some destinations with concentrated nightlife districts, Bodrum's nightlife is spread throughout the town, from the heart of Bodrum center to the vibrant neighborhoods of Gumbet and Turgutreis. Bodrum exudes a cosmopolitan atmosphere, drawing a diverse crowd of both locals and tourists.
One of the focal points of Bodrum's nightlife is the mile-long Bodrum Bar Street, also known as Cumhuriyet Street. Here, you'll find some of the town's largest and most extravagant nightclubs. Before hitting the clubs, you can take your pick from a wide range of bars offering an impressive selection of cocktails and beers, perfect for starting your night off right. Bodrum's nightclubs are known for their lively atmosphere, featuring foam parties, dazzling lighting, pulsating music, and dance performances that keep the crowd going until the early morning hours.
Notable nightlife and entertainment zones in Bodrum include Bodrum Bar Street, Bodrum Marina Yacht Club, and Bodrum Tekilacilar Street, located behind the historic Bodrum Castle. If you're exploring central Bodrum, consider visiting popular nightclubs and bars like Club Catamaran, M&M, Adamik Bar, Mandalin, Marina Yacht Club, Mavi Bar, Deli Bar, Moonlight, Seyfi Bar, Karpuz, and Veli Bar.
A unique nightlife experience can be found at Catamaran Disco, a nightclub set on a glass-bottomed boat that allows you to witness the underwater world while dancing above the waves.
In addition to central Bodrum, surrounding resorts such as Gumbet, Bitez, Ortakent, Turgutreis, Gumusluk, Yalikavak, and Turkbuku also offer fantastic entertainment and nightlife options. These areas feature popular restaurants, beach clubs, nightclubs, discos, bars, and pubs, ensuring that your evenings are as vibrant as your days spent on Bodrum's sandy beaches.
Top Nightlife Activities
Nightclubs: Bodrum is renowned for its lively nightclub scene, catering to various music preferences. Some top nightclubs in Bodrum include:
Club Catamaran:
Located on a boat, this nightclub offers a unique party experience as it cruises around the Bodrum peninsula, allowing guests to enjoy breathtaking views while dancing.
Vittoria Club:
Situated in the bustling Municipality Square, in the heart of Bodrum Marina, this club regularly hosts renowned DJs and musicians, promising an unforgettable night of dancing and socializing.
B1-Be One Club Gümbet:
A popular spot in Gümbet, this club boasts a spacious dance floor and comfortable seating, making it ideal for both dancing enthusiasts and groups seeking a memorable night out.
With an abundance of remarkable bars in Bodrum, there's no excuse not to savor the resort's legendary nightlife. Whether you seek a wild party or a more relaxed evening, Bodrum's nightlife scene has something to suit every taste.
Best Areas & Hotspots
When it comes to nightlife and clubbing in Bodrum, several areas and hotspots are worth exploring. Here are some of the best places for a night out in Bodrum:
Bodrum City Center: The heart of Bodrum features a diverse array of bars, pubs, and nightclubs. Cumhuriyet and Adnan Menderes streets are particularly popular for their range of venues, catering to various tastes and budgets.
Bodrum Bar Street: Known for hosting Bodrum's most extravagant nightclubs, Bodrum Bar Street is the epicenter of the town's vibrant nightlife. It's also home to the iconic Hadigari Bar, the first bar to open in the area.
Bodrum Marina Yacht Club: This famous entertainment and nightlife hub in central Bodrum offers stunning views of the sea and the historic Bodrum Castle. It features live music performances throughout the year, three restaurants, and four bars.
Gumbet: Just a short distance from Bodrum city center, Gumbet is a popular tourist destination known for its long sandy beach, lively nightlife, and a variety of restaurants and bars.
Yalikavak: This charming fishing village has gained popularity among tourists in recent years. Yalikavak is known for its beautiful marina, boutique shops, and upscale restaurants.
Bodrum offers a sophisticated nightlife scene, from seafront bars along Cumhuriyet Caddesi, the heart of the town's nightlife, to sea-view restaurants, cafes, and lively clubs where you can dance the night away.

Kuba Bar Bodrum
Kuba Bar in Bodrum pulses with the latest vibes and hosts guest DJs. The venue also includes a restaurant with an elevated terrace, providing stunning views of the waterfront and castle as the sun sets.
Annalivia Restaurant Gumbet
Located in Gumbet, just 4.6km from Bodrum town center, Annalivia Restaurant boasts beautiful sea views and offers a great vantage point for watching the sunset. This Mediterranean restaurant serves up steaks and creates a delightful atmosphere with friendly service.
La Pasion Restaurant Bodrum Town
Situated in Bodrum's atmospheric old town quarter, La Pasion Restaurant offers a wide selection of international dishes and is renowned for its delicious Spanish tapas. Local specialties include roasted goose over bulgur pilav with nuts and dried apricots, a delight for food lovers.
Café Cafen Bodrum
Café Cafen in Bodrum is renowned for its breakfasts, making it the perfect spot for replenishment after dancing the night away. Located near the marina, Café Cafen is opposite the main entrance.
Conclusion Nightlife Bodrum
As evidenced, Bodrum boasts a vibrant nightlife and clubbing scene that's well worth exploring. Whether you're up for dancing until dawn or prefer a more laid-back evening, Bodrum has something for everyone. From the diverse clubs and bars of Bodrum city center to the beach clubs of Gumbet and the upscale dining experiences in Yalikavak, there's no shortage of options for an unforgettable night out. So, prepare to dance, drink, and have a fantastic time in Bodrum!

Exploring the Enchanting Yacht Harbors of Bodrum:
Where Luxury Meets the Aegean Sea
Nestled along the southwestern coast of Turkey, Bodrum is a captivating coastal town renowned for its rich history, vibrant culture, and, of course, its stunning yacht harbors. With a history that dates back to ancient times, Bodrum has evolved into a modern haven for sailors, luxury yacht enthusiasts, and those seeking a taste of the high life on the Aegean Sea.
The boatyards of Bodrum have a storied history dating back to ancient times. Even today, skilled craftsmen continue to construct traditional yachts in this region. In terms of marinas on the Bodrum Peninsula, there are three world-class options, each offering a comprehensive range of services for yachts and boats. These marinas include: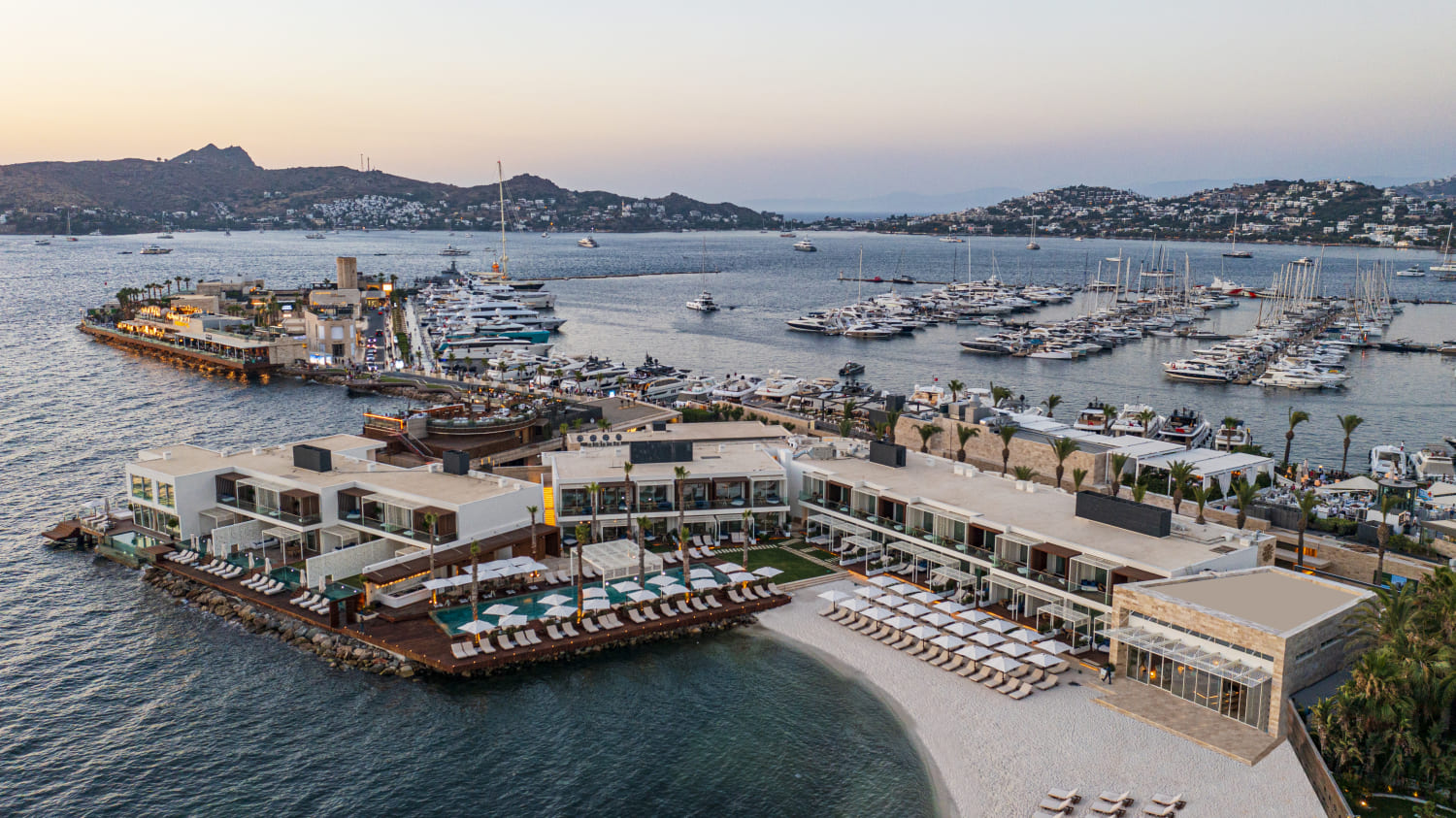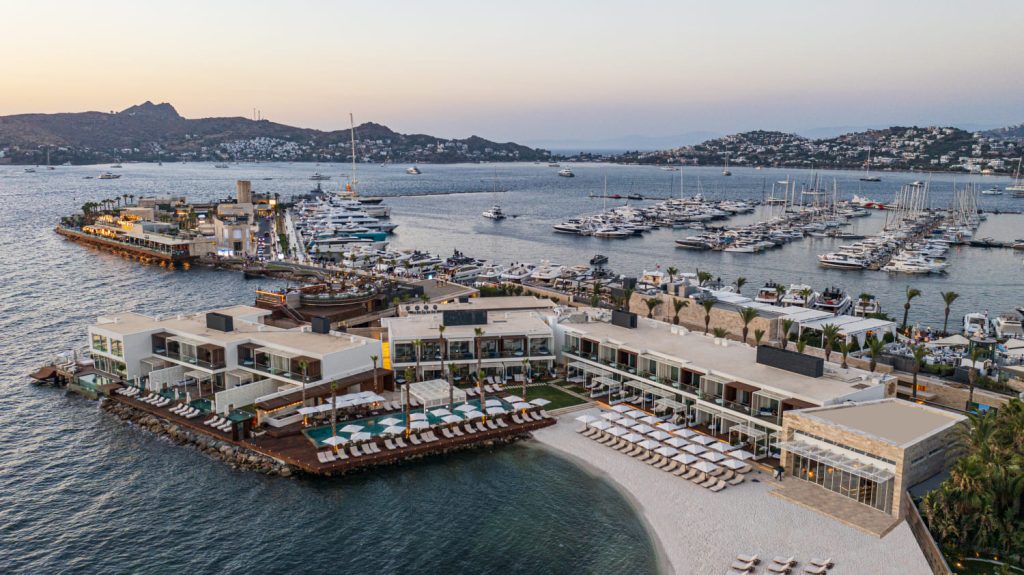 Yalıkavak Marina – Yalıkavak
For those seeking a blend of luxury and entertainment, Yalıkavak Marina is the ultimate destination. Located in the nearby town of Yalikavak. This marina is more than just a harbor; it's a lifestyle destination. Yacht owners and visitors can indulge in a wide array of amenities, from upscale restaurants and bars to designer boutiques and art galleries. The marina also hosts world-famous DJs, turning the nights into unforgettable parties under the starry Aegean sky.
Situated 18 km away from central Bodrum in Yalikavak, this marina holds the prestigious 2018 Gold Anchor award in the super-yacht marina of the year category from The Yacht Harbour Association. Yalıkavak Marina welcomes yachts of all sizes and offers super-yacht facilities. With 620 berths for yachts up to 140 meters in length, it provides a dynamic lifestyle and exclusive privileges for boat owners and visitors alike. The marina features an open-air shopping mall, gourmet restaurants, bars, cafes, clubs, entertainment venues, internationally acclaimed luxury hotels including the Yalıkavak Marina® Beach Hotel and Yalikavak Marina® Boutique Hotel, a Spa & Fitness Center, and hosts a variety of events and activities.
https://yalikavakmarina.com.tr/marina/
Milta Bodrum Marina – Central Bodrum
At the heart of Bodrum's yachting scene lies the Bodrum Marina, a modern and luxurious harbor that caters to the needs of discerning travelers and yacht owners. With its state-of-the-art facilities and stunning views of Bodrum Castle, this marina is a true gem on the Turkish coast.
Milta Bodrum Marina boasts impeccable infrastructure and a unique urban location. With a capacity of 425 berths, it offers full-fledged technical services, 24/7 security and healthcare facilities. Moreover, visitors can enjoy a shopping center featuring world-famous brands, original restaurants, and bars that create a delightful atmosphere. Milta Bodrum Marina stands as one of the most prestigious marinas along the Aegean and Mediterranean coasts, holding both Blue Flag and Five Gold Anchor Awards.
https://www.miltabodrummarina.com/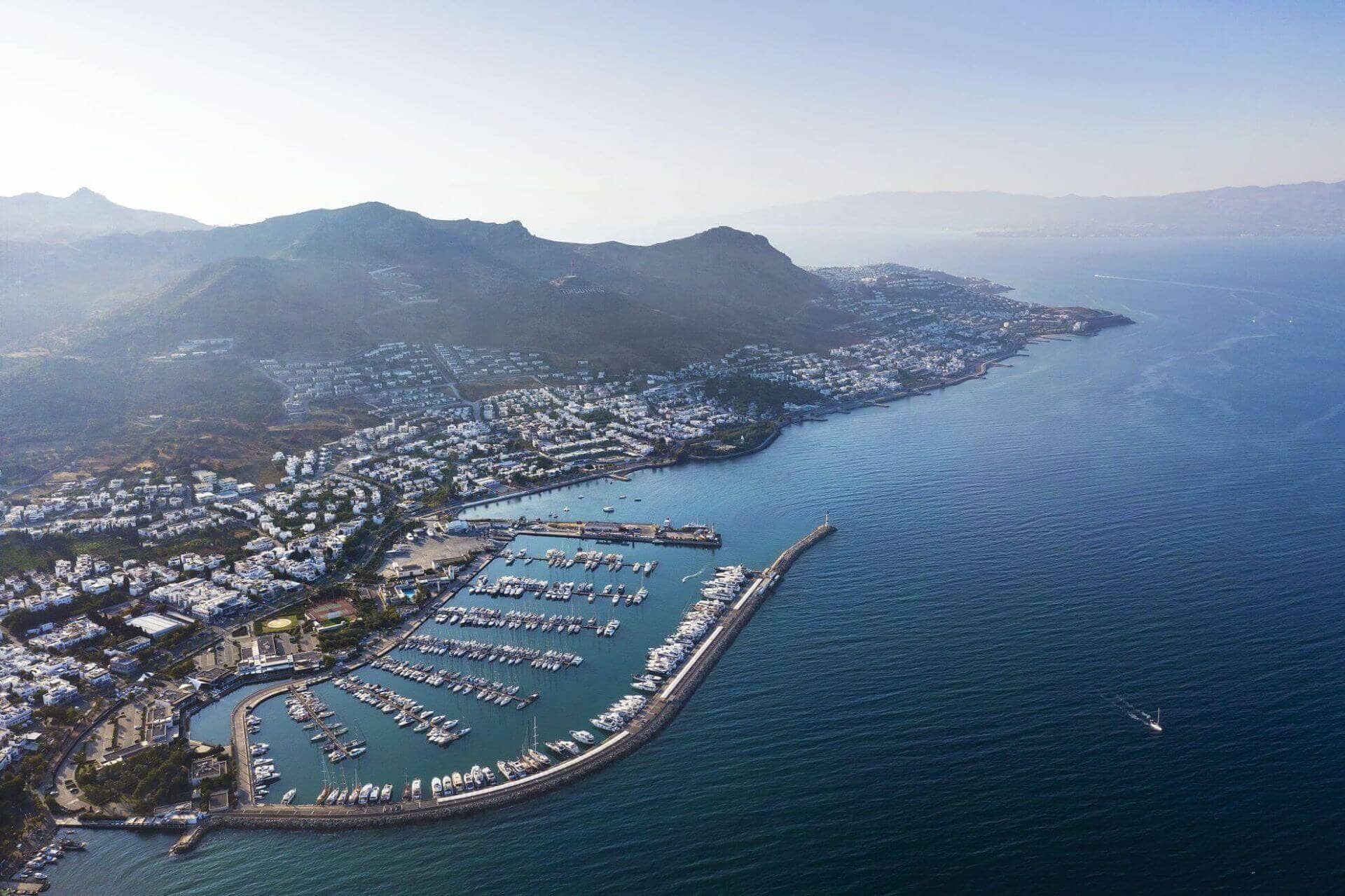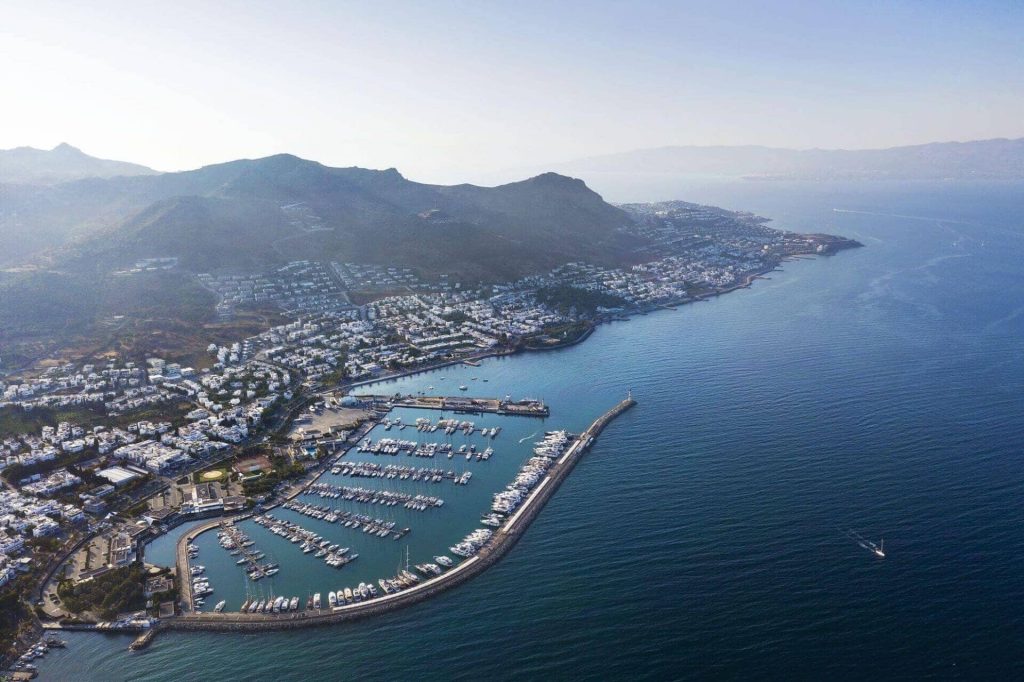 D-Marin Marina – Turgutreis:
Located 20 km away from central Bodrum in Turgutreis, D-Marin Marina offers a berthing capacity of 550. It provides med moorings and finger pontoons for yachts ranging from 8 to 75 meters. D-Marin Marina is not only an award-winning marina but also a marina village with modern amenities, including the luxurious Yacht Club and the Blue Point Beach Club. Among its attractions are an open-air cinema, swimming pool, tennis courts, Turkish bath, sauna, spa, supermarket, restaurants, bars, cafés, charter and travel agencies, shops, and even a heliport.
https://www.d-marin.com/en/marinas/turgutreis/
Other small harbors
Turkbuku: A Tranquil Escape
For a more serene and exclusive yachting experience, Turkbuku offers a tranquil escape. Known as the "Saint-Tropez of Turkey," this charming village boasts a picturesque harbor where luxury yachts gracefully anchor. Turkbuku's allure lies in its serene atmosphere, crystal-clear waters, and the luxury beach clubs lining the shoreline. It's the perfect place to savor a leisurely meal at a waterfront restaurant or to unwind on a sun-kissed deck while admiring the pristine coastline.
Gumusluk: A Hidden Gem
Gumusluk, with its rustic charm and tranquil bay, offers a delightful yachting experience away from the crowds. This hidden gem on the Bodrum Peninsula is renowned for its sunken ancient city, creating a unique backdrop for snorkeling and diving enthusiasts.
The harbor of Gumusluk is small but enchanting, lined with seafood restaurants where you can savor the day's catch while watching the fishing boats come and go. It's a place where time seems to slow down, allowing you to savor every moment by the sea.
Bodrum: A Yachting Haven and Nautical paradise
Bodrum's allure as a nautical paradise can be traced back to its strategic location on the Bodrum Peninsula, where the Aegean Sea meets the Mediterranean. Its history as a seafaring destination is deeply ingrained, with ancient Bodrum, known as Halicarnassus, serving as home to one of the Seven Wonders of the Ancient World: The Mausoleum at Halicarnassus.
Today, Bodrum's enchanting yacht harbors continue to draw travelers and yachting enthusiasts from around the globe. Whether you're a seasoned sailor or simply seeking a taste of the high life on the water, Bodrum's yacht harbors offer an array of experiences.
In Bodrum, every yacht harbor tells a unique story, offering a blend of history, luxury, and adventure. Whether you're exploring the vibrant Bodrum Marina, partying the night away at Yalıkavak Marina, seeking tranquility in Turkbuku, embarking on island-hopping adventures from Turgutreis, or discovering the hidden charm of Gumusluk, Bodrum's yacht harbors have something special to offer every traveler and yachting enthusiast.
As you sail along the sparkling Aegean waters and explore the enchanting coastline of Bodrum, you'll discover that this Turkish gem is indeed a yachting haven where luxury meets the sea.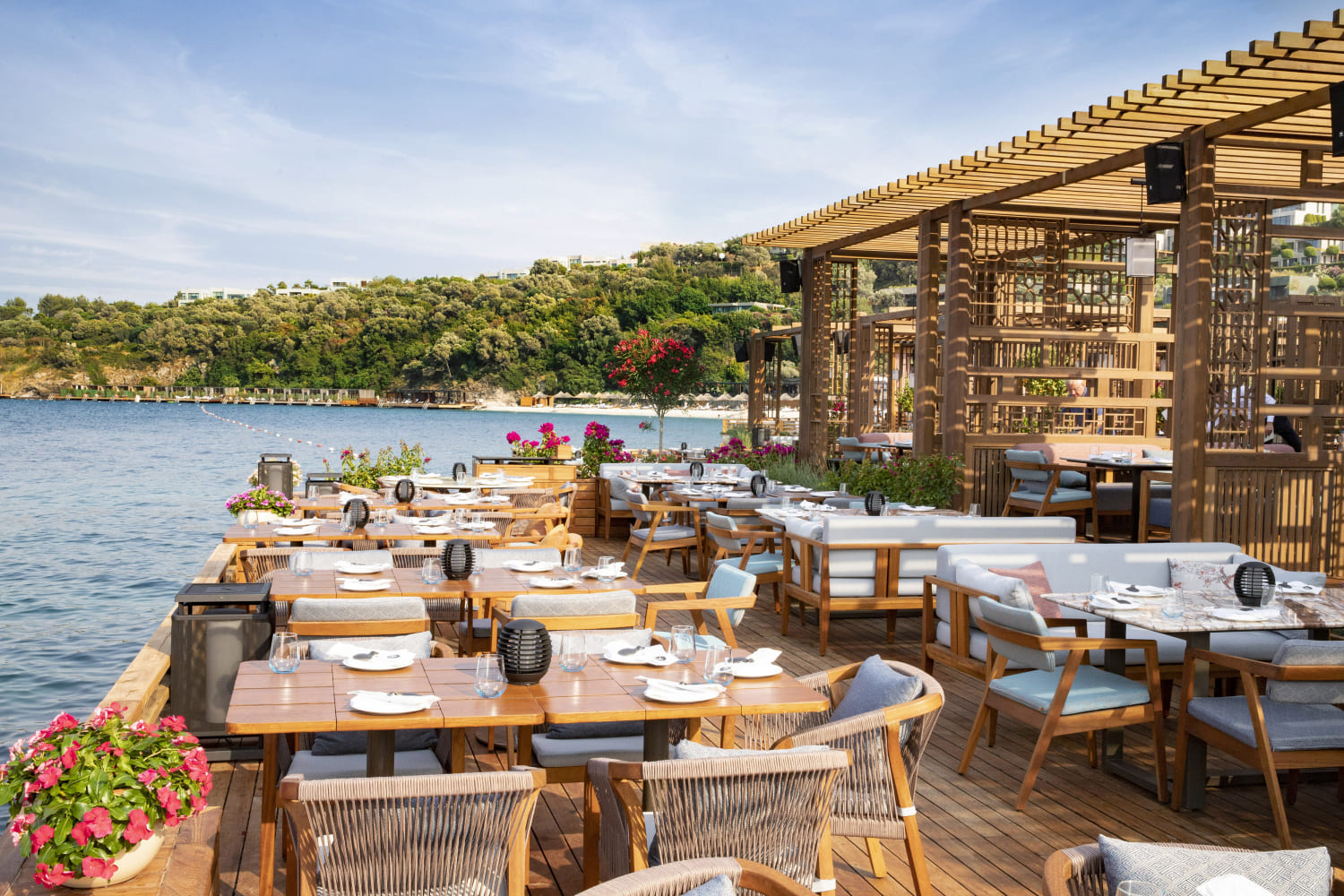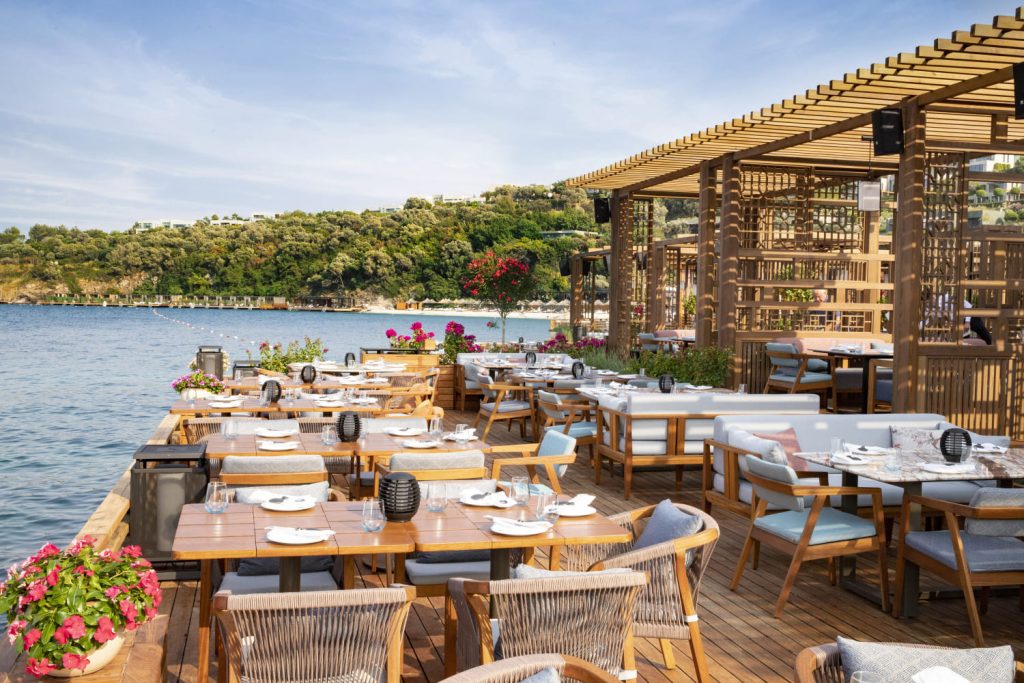 Exploring Bodrum's Culinary Delights
 While Bodrum may boast a picturesque coastal setting, its culinary scene extends far beyond seafood. From delectable street food like kebabs and flatbreads to sizzling grilled meats in rustic taverns, Ottoman cuisine offers a rich tapestry of flavors to discover. Although Turkish cuisine is renowned for its meat-centric dishes, vegetarians won't go hungry with the array of plant-based meze platters, soups, and fresh salads available throughout the city.
Whether you prefer indulging in traditional Turkish fare at a modern restaurant, savoring homestyle dishes on a charming lemon farm, or relishing exquisite creations at an upscale establishment, Bodrum caters to diverse palates. Don't overlook classic Turkish Mediterranean dishes such as stuffed phyllo pastries and stuffed vegetables. Embark on a culinary adventure as we guide you through the top dining experiences in Bodrum.
Embrace Local Traditions at a Meyhane
Immerse Yourself in Traditional Turkish Cuisine:
A meyhane, a quintessential Turkish bar or restaurant, offers an unforgettable dining experience. Here, you can select from an extensive array of hot and cold mezes before venturing to the nearby fish market or butcher to handpick your main course. Your chosen restaurant will then prepare and serve your selection on the spot. Some meyhanes tantalize taste buds with grilled octopus, while others offer a wider range of options in a lively atmosphere replete with dance and live music throughout the week.
Bodrum Town
A Central Hub for Dining
Bodrum is a vibrant town that never sleeps, offering round-the-clock entertainment. Cafés and restaurants cater to a wide range of international cuisines alongside mouthwatering Turkish kebabs. Choices span Chinese, Mexican, Indian, and Thai specialties. Many establishments offer tavern-style entertainment with live music and belly dancers. Alternatively, you can simply unwind, sip your drink, and relish the breathtaking views of Bodrum Marina.
Goltürkbükü
Luxury Dining by the Aegean:
Goltürkbükü, a charming village favored by affluent Istanbul visitors, lines the Aegean coast with its upscale restaurants. Some dining spots even extend onto the water, enhancing the culinary experience. To complement your meal, savor the light aniseed-flavored national drink, raki, or locally produced wine. Restaurants like Miam Restaurant offer a diverse selection of meat and fish dishes, although it's worth noting that this area tends to be pricier on the Bodrum Peninsula.
Gümüşlük
Seafood Extravaganza in a Coastal Gem Gümüşlük, a serene seaside village and fishing port, sits at the tip of the Bodrum Peninsula, just a short drive from the city center. No visit to Bodrum is complete without indulging in a delectable seafood feast, and Gümüşlük is arguably the prime destination for this culinary delight. This peaceful village offers a serene escape from the tourist crowds. Renowned for its seafood, Gümüşlük invites you to dine right at the water's edge, where you can often choose your fish straight from the fisherman's catch.
Classic Turkish Cuisine in Bodrum's Heart
Eski Köy Restaurant, situated along Bodrum's main thoroughfare, presents traditional Turkish dishes in a modern ambiance. Locals and visitors alike praise this restaurant for its variety of delectable soups, salads, and reasonably priced grilled meats. Must-try dishes include succulent kebabs served with flatbread, pide (boat-shaped flatbread with various toppings), lahmacun (minced meat, herb, and vegetable-topped flatbread), and the delectable dessert Künefe, a cheese-filled delight made from baked, finely shredded dough.
Otantik Ocakbaşı
Savor Generous Portions of Juicy Grilled Meats. Otantik Ocakbaşı is celebrated for its grilled meats and exceptional customer service. Whether you crave steaks, lamb shanks, or kebabs, every dish comes with ample sides of flatbread, grilled vegetables, and rice, perfect for sharing.
Even herbivores have plenty to enjoy, with a vegetarian mezze platter and appetizers like pan-fried potatoes and mushroom in garlic sauce. If you're dining with a group, consider ordering a customized mixed grill featuring various meats for a fully satisfying meal.
In Bodrum, a world of culinary delights awaits, offering an enticing blend of tradition and innovation for every discerning palate.