Tranquil Çeşme Living
For Those Who Want to Experience Çeşme Every Moment.
"Here in Çeşme, modern architectural designs meet elegance and comfort. These magnificent structures, tightly embracing the limitless turquoise of the sea, open the doors to a unique lifestyle. Every detail inside is elevated to the pinnacle of luxury, offering not just a vacation but life itself. Get ready to experience the most unforgettable moments of your life, where unique designs meet the beauty of the sea and nature."
Your Daily Routine Is Someone Else's Vacation.
A peaceful life awaits you in living spaces built with modern architecture, nestled amidst the beauty of nature. Reflecting the essence of Çeşme, this property is conveniently located right next to the Çeşme Highway, just 5 minutes away from Şifne and Ilıca. In this special living area, you can experience the splendid atmosphere offered by nature and the sea.
All of Çeşme Is Where You Live
Enjoy being in Çeşme with famous beaches, marinas, and everything you might need nearby.
Altınyunus Marina: 16 minutes
Boyalık Beach: 19 minutes
Ayayorgi Cove: 20 minutes
Çiftlikköy: 21 minutes
Dalyan Marina: 22 minutes
Sakızlı Cove: 23 minutes
Çeşme Alaçatı: 3 minutes
Paşalimanı: 8 minutes
Ilıca Beach: 9 minutes
Port Alaçatı Marina: 10 minutes
Çeşme State Hospital: 13 minutes
Çeşme Marina: 14 minutes
And many more attractions at your doorstep.
Project size
7 Blocks
Total Units: 138 units
Property Id : 29151
Price: $ 414.500
Property Size: 70,00 m2
Rooms: 2
Bedrooms: 1
Bathrooms: 1
pool
back yard
front yard
concierge
Similar Listings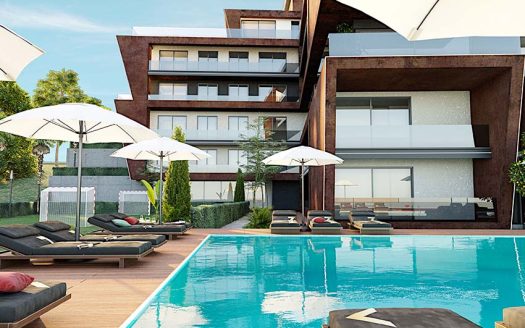 $ 190.000
Are you looking for a new development apartment for sale in Çeşme? This project consists of 1+1 apartments. Each ap
[more]
Are you looking for a new development apartment for sale in Çeşme? This project consists of 1+1 apartments. Each ap
[more]
$ 185.200
The most special region of Izmir and the most valuable living area in Çeşme, in a unique location, just in front of
[more]
The most special region of Izmir and the most valuable living area in Çeşme, in a unique location, just in front of
[more]