Why Citizenship by Investment in Turkey?
To attract foreign direct investment and boost the growth of Real Estate in Turkey, the government introduced some programs in order to obtain the Turkish Nationality. It is possible to receive Citizenship in Turkey via several options. Various Investments in Turkey can be made to boost the country's economy. After the Turkish Passport is received, a person is able to actively participate in the investment climate of Turkey.
Turkey offers a relatively simple and straightforward process for acquiring citizenship, including the ability to acquire citizenship through an investment. Here's everything you need to know about getting Turkish citizenship:
How long does it take to get Turkish citizenship?
The timing of obtaining Turkish citizenship varies depending on the method chosen.If you choose citizenship through investment, you can become a citizen in as little as three to six months. If you are applying for citizenship in any other way, e.g. B. through marriage or descent, the process can take several years.
Is it easy to get citizenship in Turkey?
Compared to other countries, obtaining citizenship in Turkey is relatively easy. The government has streamlined this process and made it available to those who meet the criteria.With the right documents and qualifications, you can get citizenship in Turkey quickly and easily.
Citizenship in Turkey by Investment
One of the most popular ways to get citizenship in Turkey is through investment. With a minimum investment of $400,000 in real estate, you and your family members can get Turkish citizenship. This option is particularly attractive for investors looking to benefit from Turkey's growing economy and favorable business climate.
How to Apply for Citizenship in Turkey
To apply for citizenship in Turkey, you must meet certain criteria such as residency requirements, language skills and good character.The application process usually involves submitting various documents, including a passport, birth certificate, and other supporting documents. If you are applying for citizenship through investment, you will also need to provide proof of your investment.
Benefits of Turkish Citizenship through Investment 
Participate in the local investment Market
Turkish citizenship benefits people who wish to invest in real estate and seek opportunities in Turkey. Activities like purchasing agricultural land etc. are impossible without Turkish citizenship.
Back Up Plan – Diversify
Many foreign investors choose for a second citizenship in Turkey in order to diversify their portfolio, and to have a backup plan in case the situation changes drastically in their native country. Turkey allows dual citizenship.
Receive rights of a Turkish citizen.
After receiving the Turkish Citizenship, you will get the same rights as a citizen born in Turkey. This means there is no need for a residence or work permit.
The benefits of citizenship also apply to your family and children.
Apart from the applicant, citizenship is also granted to your spouse, children under the age of 18 and any unborn children.
Medical services
Foreign citizens who acquire Turkish citizenship are entitled to medical care for themselves and their families. You and your family will enjoy all the health benefits from the government with their functional hospitals that meet international standards.
Participate in International Trade
Turkey plays an important role in international trade, maintaining trade relations with dozens of countries and various industries.
The Location of Turkey
Access to a very centrally located Country that serves as a financial and political center of Europe, West Asia and the Middle East, including more than 300 direct flights to all over the world.
Visa Free Travelling
After obtaining a Turkish passport, foreign investors can travel to 115 countries without a visa.
Applying for an E2 Investor Visa Becomes Easier
For individuals wishing to invest in the United States by incorporating a business or taking control of an existing business, it is easier to obtain an E2 investor visa if you are Turkish, are citizens. The E2 investment visa applicant's country must have a trade agreement with the United States. Turkey and the United States have reached an agreement on this issue. You can have dual citizenship
Enjoy the relatively low cost of Living in Turkey.
Please also check Cost of Living in İzmir for more information.
Lifestyle
You will receive citizenship in a country with a high quality of life, a pleasant Mediterranean climate and various amazing areas.
Benefit from High-Level Education Opportunities
In Turkey, hundreds of universities provide education at the highest level, in addition to many primary schools, secondary schools and secondary schools offering tuition in their mother tongue to international students. Due to educational institutions and colleges offering free or paid services, Turkish residents can get quality educational services for themselves or their families. University students in Turkey must be citizens of Turkey to be eligible for educational credit and accommodation reimbursement from the institution. A foreign citizen who acquires Turkish citizenship is also entitled to an education loan.
Capital Gain
It is possible to sell your investment after 3 years and benefit from capital gains. The Turkish real estate market has an average annual capital appreciation of 12%. Real estate prices in Izmir increase by 10-15% in USD every year.
Video about the Advantages of Citizenship in Turkey
Turkish Citizenship through Investment Requirements
The main applicant must meet one of the following investment conditions to be eligible for Citizenship in Turkey:
Acquire at least USD, 400,000 worth of real estate.
Invest at least USD 500,000 in fixed capital.
Open a Turkish bank account with at least USD 500,000, equivalent foreign cash or Turkish lira.
Invest at least 500,000 USD, the equivalent in other currencies, or TRY in government bonds.
Invest at least 500,000 USD (or equivalent amount in another currency, Turkish lira or any other currency) in shares of a real estate investment trust or venture capital mutual fund.
Invest at least USD 500,000, equivalent foreign cash or Turkish Lira, in a private pension scheme for a minimum holding period of three years.
Create at least 50 jobs, as certified by Department of Family, Labor and Social Services.
The main applicant may submit applications on behalf of their spouse, dependent children under the age of 18, and Children of all ages with disabilities.
For more detailed information regarding Investment in Turkey (Türkiye), you can visit the government's Investment Page as well.

Steps and Duration Turkish Citizenship Investment Program
Applicants are required to apply for a residence permit on behalf of the family after selecting the acceptable investment option. After that, the main applicant has to open a Turkish bank account.
Required Documents for Citizenship by Investment in Turkey
After the property purchase, the documents will be submitted to the government. All application documents, including certificates and translations, will be checked when the review process is initiated, then an interview request is made. It usually takes 120 days for the application to be approved, after which the citizenship documents will be provided.
Tax Number
The Tax number can be obtained at the "Vergi Dairesi".
You will need this number in order to open a bank account in Turkey as well.
Bank receipt
The funds for the property purchase in Turkey must be transferred from the 'buyer's' own account to the 'seller's' bank account and the bank documents must be presented.
DAB Document
An official document provided by the bank that states that at least USD 400.000 is converted to Turkish Lira in order to purchase a property in Turkey.
Title Deed or notarized Sales Agreement of the property
8 photos main applicant/4 photos other members 50*60 biometric photos.
Birth Certificate
An original Birth Certificate from applicant's country.
After that, the birth certificate will be officially translated into Turkish.
Marriage Certificate The applicant must provide an original marriage certificate in order to apply for Turkish citizenship. The foreign investor's Ministry of Foreign Affairs must approve it in the applicant's country. The original of the marriage certificate is then translated into Turkish. The documents are then notarized and sealed by the Turkish consulate.
If the applicant is divorced, a certificate of divorce will be issued.The original marriage certificate must be approved by the Ministry of Foreign Affairs after the original document has been translated into Turkish. The documents are notarized and stamped by the Turkish consulate.
If the applicant is single, all documents proving singleness:
The original of the certificate of singleness must be presented and approved by the Ministry of Foreign Affairs of the applicant's country. After that, the original document needs to be translated into Turkish, then notarized and stamped by the Turkish Consulate.
Photocopy of Residence Card
If the applicant has a Turkish Residence Permit, the applicant must provide a photocopy of  the Proof of Residence permit appliance.
Family Book
If applicable, documents proving your relationship with your spouse and children.
The current processing period for Turkey's citizenship by investment program is three to six months. All Documents must be notarized and stamped by the Turkish Consulate.
THE TURKISH CITIZENSHIP PROCEDURES STEP BY STEP
An agreement has been reached to purchase the property.
The value of the property must be at least $400,000.
Official Appraisal
CMB applies to one of the accredited property appraisers and commissions a "Property Appraisal Report". Please note that a Title deed must be available in order to make the appraisal.
The Land Registry Directorate submits the required documents.
The Land Registry Directorate Audit
The Land registry will check whether the receipt, the valuation report and the declared values ​​meet or not those of criteria required by the regulations.
Transaction Costs Title Deed Exchange
If the conditions are met, interested parties will be informed via SMS about the amount of the registration fees and operating costs due for the procedure.
Title Deed Exchange Date
After paying the fees, the date of the meeting will be communicated by SMS on the contract to be signed.
Declaration Not to Sell Property within 3 Years
Once the signatures are done and the agreements are made, a declaration is made in the land and mortgage register that the property will not be sold for three years and the title deed is entered.
Documents proceed for Conformity Report
At the end of the procedure, the Land Registry sends the documents of the procedure to the General Directorate/Regional Directorate through the system for drawing up the "Conformity Report" for the naturalization application.
Last Stage – General Directorate for Migration
After the necessary checks have been carried out, the "Conformity Report" is sent to the Provincial Administration for Civil Status and Citizenship and the General Directorate for Migration Management for processing in an official letter to the interested parties by email.
Restricted Areas for residence permit appliance in Turkey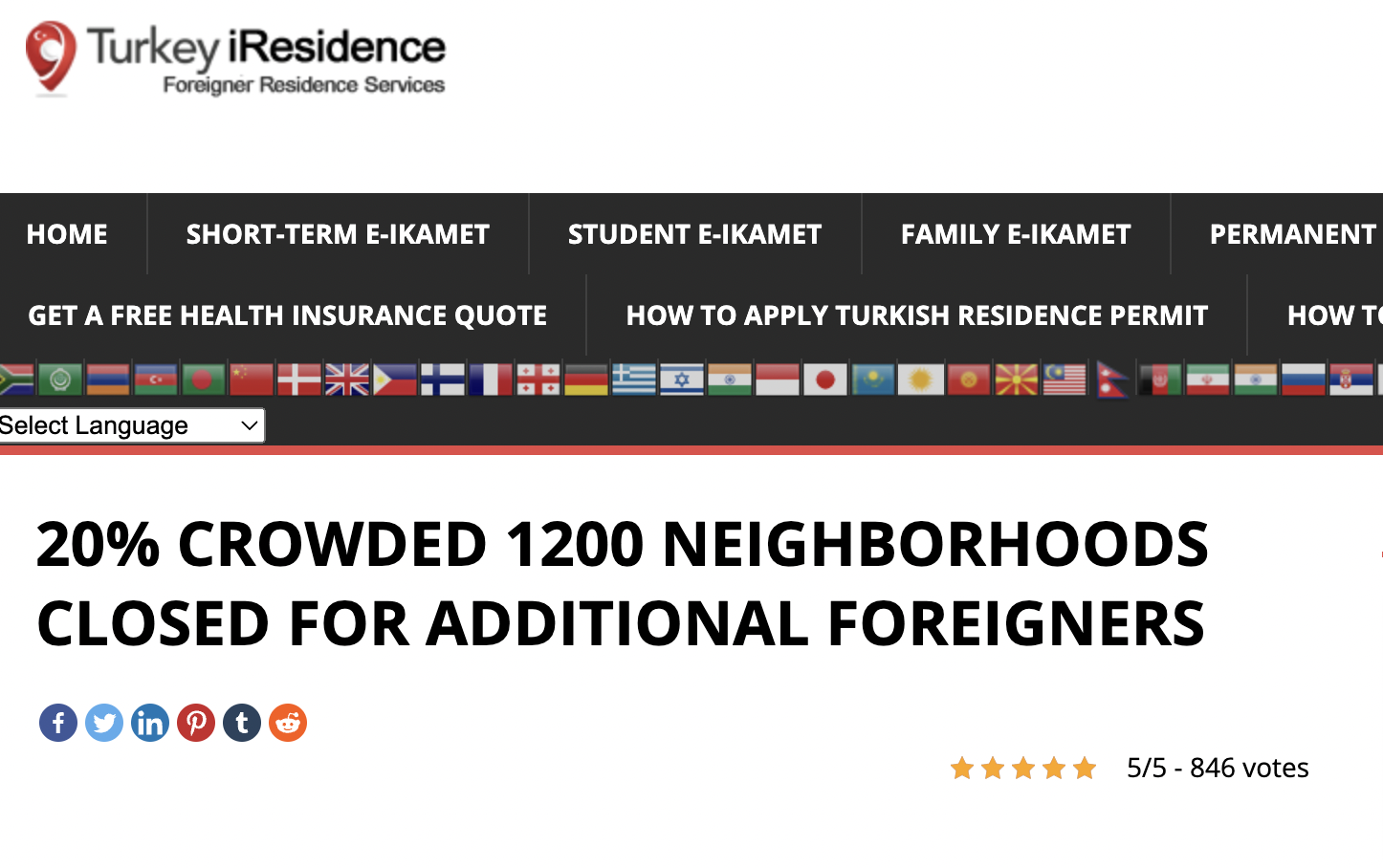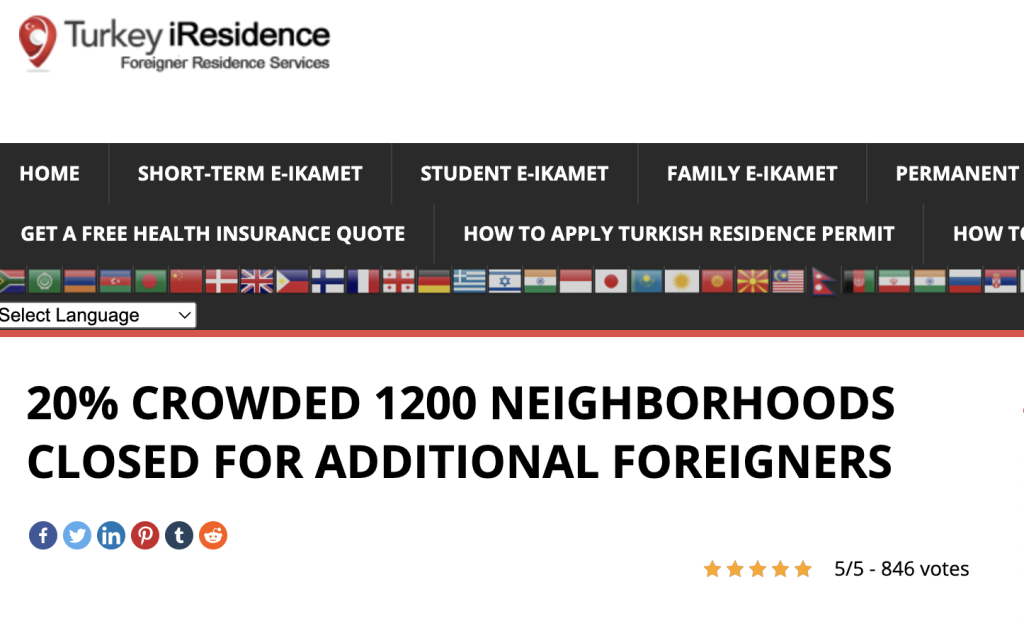 Please note that there are various restricted areas in Turkey for residency appliance. Since every Turkish Citizenship applicant need to apply for a residence permit in Turkey as well, this may affect the Citizenship procedure in Turkey too. For an updated list of all the restricted areas please check: 
https://residencepermitturkey.com/foreigners-residence-permit-update
Restrictions on the purchase of property in Turkey by foreigners
Approved Countries
The foreign investor's country must be among the countries approved by Turkey for real estate acquisition under Article 35. The acquisition of real estate by foreign investors is only possible within the framework of legal restrictions beyond Article 35 of the Land Registry Act 2644.
Land Investment Limit
An investor (not a company) can purchase up to 30 hectares of land. The President can increase this size, although it is difficult to expand unless massive job creation is expected.
Limit Foreign Investment per Area
The total area of ​​real estate acquired by foreign investors may not exceed ten percent (10%) of the area of ​​private property in the relevant district.
Military Zones
Foreigners cannot acquire property in Prohibited Military Zones under Prohibited Military Zones and Safe Zones Act No. 2565. Acquisition by foreigners is impossible in places belonging to strategic areas and special security zones defined by the President as areas where foreign investors cannot acquire property.
For more information regarding Citizenship in Turkey, you can check our BUYERS GUIDE as well.
Frequently Asked Questions Citizenship in Turkey