On this page we will provide you information on the following topics:
-Is İzmir a good place to Live?
-Moving to İzmir
-Cost of Living İzmir
-Living in İzmir as and Expat
-Where Expats Live in İzmir?
-Best Neighborhoods in İzmir to live
-Accessibility / Direct Flight connections to İzmir
-The Climate in İzmir
-Some Economic details of İzmir
-Why is İzmir known as the pearl of the Aegean?
-Tourist Attractions in İzmir
-Jobs in İzmir
-Transportation in İzmir
-Buy property and live in İzmir, Turkey
-Festivals in İzmir
-Nature in İzmir
-Nightlife in İzmir
-The Best Food in İzmir?
-Popular Sports Clubs of İzmir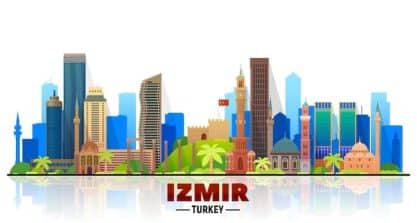 Living in İzmir, is İzmir a good place to live in Turkey?
İzmir is one of the most attractive and beautiful cities in Turkey, visiting this city is certainly an unforgettable trip for everyone. But there are many who are connected to this city and love it so much that they prefer to live in İzmir and move to this city from anywhere in the world to reside in. Living in İzmir Turkey means living in a place of tranquility in combination with all the facilities every big city has to offer. Residents of İzmir city are very peaceful and caring as İzmir people attract attention of many tourists and immigrants with a positive, polite and comfortable life. İzmir has countless natural attractions as it is a province with sandy beaches, historical monuments, mineral springs, ancient cities, palm trees, cafes and many other attractions that attract not only many tourists but also those looking for permanent residence.
Reasons Why Moving to İzmir is a good choice!
-The most Modern City of Turkey-Very Young Population.
-Nearby a lot of Beautiful Seaside Towns like Urla and Çeşme.
-Best Climate of whole Turkey, never too hot and 300 days a year sunny weather.
-More relaxed lifestyle in Comparison with Istanbul, less Traffic and less pollution.
-A lot of Parks, Nature, and the best Beaches in Turkey.
-Easy to reach by Plane, İzmir Adnan Airport has direct flights to Numerous European countries and flight worldwide via Istanbul.
-Very diverse Area, Easy connection to some Greek Islands, and soon there will be Ferries to Thessaloniki and Lesbos from İzmir.
-Lower cost of Living in comparison with Istanbul.
-Historical sites like Ephesus and many more.
-Perfect to start an Import or Export Business, big Industrial harbor.
What is the cost of living in İzmir?
İzmir is one of the most beautiful and largest cities in Turkey where the cost of living is lower in comparison with Istanbul. The number of immigration applicants is increasing day by day, many people choose to move to İzmir Turkey due to the low cost compared to other European countries. And it is interesting to know that İzmir is an ideal city to live in because the cost of living in İzmir is very affordable. The cost of living in Istanbul is more than 30% more expensive than in Izmir. The Turkish cities Istanbul and İzmir ranked 7179th and 8423rd with a cost of living of $644 for Istanbul and $488 for İzmir in the list of the most expensive cities in the world and ranked 1st and 4th in Turkey. For more information about cost of Living in İzmir, please follow the link.
Living in İzmir as an Expat
İzmir is the 3th biggest metropolis in Turkey, nearby the high-end coastal towns like Urla and Çeşme offering the most beautiful the beaches of Turkey next to the Aegean Sea. This lovely coastal metropolis enjoys extraordinary perspectives of the Aegean Sea. In addition to its incredible business and industrial area and the port, this metropolis additionally consists of very lovely traveler attractions, which includes quiet and exquisite beaches, the clock tower in Konak Square, the elevator building, the Church of Saint Polycarp, the residence of Hasrat Mary, the cave (that became cited in Quran), the temple of Apollo and the mosque, The siege and the ancient metropolis of Ephesus and the monument of Ataturk at the Republic Square.
Living in İzmir as an Expat is quite comfortable. İzmir has a rich history of a mixed population from various regions all over the world. The combination of various cultures makes it a very interesting city to live in. Local people in İzmir are in general very open minded and super hospitable to Expats in İzmir. İzmir is considered the most modern city of Turkey and has the youngest population in comparison with other cities in Turkey.
Geography of İzmir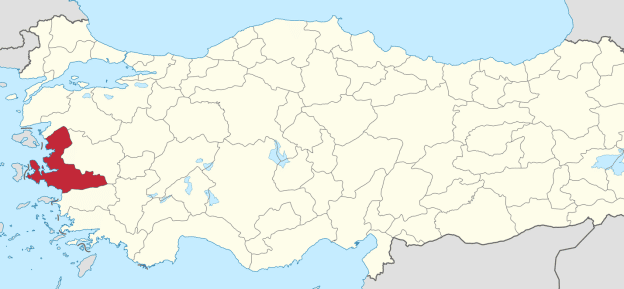 This great metropolis is placed at the West Bank, with a population of approximately 4.4 million, İzmir is the 3th biggest metropolis in Turkey in phrases of populace and the second one biggest metropolis withinside the Aegean, with ​​30 regions, and a complete place of ​​734 thousand rectangular kilometers and a mean top 30 meters above sea level.
The districts of İzmir
Izmir is a province and metropolitan municipality of Turkey in western Anatolia, on the Aegean coast. Its capital is the city of İzmir, which in turn is made up of the 11 central districts of the province of 30 in total. To the west it is surrounded by the Aegean Sea and encloses the Gulf of Izmir. Its area is 11,973 square kilometers (4,623 sq mi), with a population of 4,425,789 in 2021.
The main districts of İzmir city
The 8 main districts of İzmir city are: Karşıyaka, Konak, Gaziemir, Balçova, Narlıdere, Güzelbahçe, Bayraklı, Karabağlar.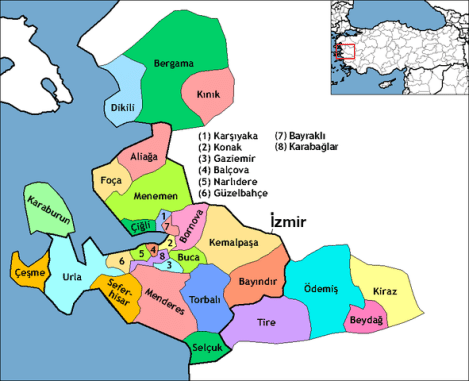 Where do Expats Live in İzmir?
Although the Province of İzmir is not discovered by the mass yet, there are expats and foreigners living in various districts of İzmir. The quality of life is relatively high in many districts, but especially Urla, Alsancak, Bostanlı, Narlıdere and Çeşme are "elite" parts of Izmir. The historical city centre of Alsancak is the most popular among property buyers in İzmir. For a calmer lifestyle nearby the beach, coastal towns like Urla or Çeşme are quite popular. Lower end districts like Buca, Murteke, Gültepe and Tepecik can be avoided.
Best Neighborhoods in İzmir to live
The most comfortable and luxurious Neighborhoods to live in İzmir are:
Alsancak, Karsıyaka-Bostanlı, Mavişehir, Narlıdere and some regions of Bornova.
Most foreigners who are moving to İzmir consider Alsancak as the first option to reside.
The neighborhood "Bostanlı" in Karşıyaka is quite popular as well. The area has numerous nice cafes and restaurants. The "Elite" of İzmir is living in Alsancak or "Mavişehir" in Karşıyaka. This area is also well known for a few high-end shopping malls which are located here.
Accessibility / Direct Flight connections to İzmir
Many Expats are moving to İzmir because of the easy flight connection with their native country. Apart from that İzmir is a good place to Live, the perfect accessibility plays a big role as well. In the picture below you will see which direct flights there are available at this moment. With direct flights we mean you do not have to stop in-between on Istanbul airport.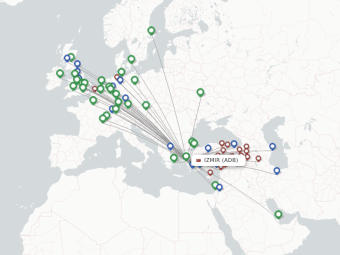 Germany:
Berlin
Düsseldorf
Frankfurt
Munich
Stuttgart
Hamburg
Other European cities:
Amsterdam
Zürich
Brussels
Paris
London
Dublin
Stockholm
Cities outside of Europe:
Moscow
Baku
Tehran
Kuwait
The Climate in İzmir

Climate is a very important aspect for a lot of people who are planning to move or migrate to a certain country or region. Not too much people prefer to live in an area wherein the climate is hardly ever sunny. In case you are planning to Live in İzmir you wouldn't have those concerns. İzmir is a metropolis city with a Mediterranean weather with warm and sunny summers and slightly wet winters. Due to the temperature and weather and the pretty small distinction among winter and summer time season temperatures, you could effortlessly hold your property in İzmir heated or cooled. Furthermore, İzmir is not as polluted in comparison with Istanbul.
Seasons in İzmir
-İzmir is located in the Mediterranean climate zone
-İzmir has a perfect weather and the cooling sea breeze in the summer takes away the burning heat of the sun.
-The weather is generally good, summers are hot and dry, winters are warm and rainy. The temperature rarely drops below zero in the winter months.
-In coastal areas of the city, the average temperatures are between 14-18 degrees.
-Annual average sea water temperature is 18.5 degrees.
Average Temperatures
-It's warm and exceptional climate makes İzmir a wonderful destination
-Having the world's best climate and most beautiful sky according to historian Heredotus, İzmir has 300 days of sunshine in a year.
Min/Max Temperatures
January and February 4-13 °C
March and April 6-17 °C
May and June 16-28 °C
July and August 20-33 °C
September and October 15-25 °C
November and December 6-15 °C
Some Economic details of İzmir
İzmir is one of major Cities in Turkey that has an advantage on many fronts, this metropolis has an herbal beauty, plenty of water resources, fertile soil and a totally appropriate weather for agriculture. The huge industrial harbor makes İzmir the most important city for import and export businesses. In the province of İzmir numerous agriculture products are produced and exported. Furthermore, in areas like Urla plenty of high-quality wine yards can be found. The Tourism business is quite lucrative in the province of İzmir as well. Every year new restaurants, boutique hotels and other tourism businesses are opened in the coastal town Çeşme. Çeşme is considered the "Saint Tropez" of Turkey, and the high society of Turkey is hanging around here. İzmir is also very popular for its multiple high end private hospitals and universities. Real estate in İzmir, is increasing in value on a yearly basis because of these Economic advantages.
Why is İzmir known as the pearl of the Aegean?
As İzmir has witnessed plenty of various civilizations and religions over time. The records of existence in İzmir are going back to 6500 BC, and it hosted ethnic organizations from distinctive countries. Furthermore, the area is known for wealthy lifestyle of the citizens of İzmir. The ancient and cultural monuments are of big value to the metropolis of İzmir, and because of these historical records it is known as "the pearl of the Aegean Sea".
Tourist Attractions in İzmir
The surroundings of İzmir are a mixture of the Aegean Sea, the best white sand beaches in Turkey plus lush and tall palm trees. After a busy day, it is wonderful to see these views with the clear sky and fresh air of İzmir. Due to its ancient history, İzmir has many monuments, which is one of the reasons why İzmir receives many tourists from all over the world every year. The Clock Tower in Konak Square, the Elevator Building, the Church of Saint Polycarp, the House of Mary, the Cave of the Companions, the Temple of Apollo, the Hisar Mosque and the historical city of Efes plus the Ataturk Monument on the Republic Square.
Jobs in İzmir
The cost of living in İzmir is much lower in comparison with İstanbul. That is why a lot of foreigners are focusing on apartments for sale in İzmir. There are numerous big cooperation's in İzmir who are looking for foreign staff and employees, and you can find a job with a little research. İzmir has a great business location in Turkey due to its permanent sources of income such as the industrial port and agricultural land. Because of the low cost of living in İzmir and perfect climate the region is getting more popular among expats who are able to work from home. These days many employees have the opportunity to work from home. Relocating your "Home" to this amazing area is very interesting for these people.
Transportation in İzmir
One of the other main advantages over Istanbul is the comfort of transportation in İzmir.
In Istanbul it is not uncommon to be stuck in traffic for 2/3 hours during rush hour. In İzmir this is luckily not the case. A maximum of 45 minutes during rush hours can be expected at one of the main roads. This makes it a very convenient city to travel by car from A to B. Furthermore, the luxury seaside town Çeşme, with high end Real-Estate in Çeşme is located only 1 hour drive from İzmir. There is an extensive public transport system in İzmir. There A metro line throughout the whole city which can bring you to various spots and there is a fast train (İzban) which can bring you all the way to the airport. İzmir has a comprehensive bus network as well and night buses called Baykuş can be used after a certain time. There are also a few big bus stops where busses are traveling to further destinations like, Istanbul, Kusadası, Marmaris, Urla, Çeşme. Small minivans called "Dolmus" area able to bring you to various spots in the city. One of the big advantages İzmir city is offering is the well-organized Ferry boat systems. These ferries are able to bring you from the old historical center of "Alsancak" to the other side of İzmir called "Karşıyaka". There is a ferryboat available for cars as well. This ferry boat brings you from Highway before you enter İzmir, all the way to "Karşıyaka Bostanlı".
Buy property and live in İzmir, Turkey
The cost of living in İzmir, along with all social, entertainment, cultural and climatic features including buying or renting a home and related expenses are very reasonable and acceptable. Therefore, you will have the opportunity to live with good and acceptable comfort and reasonable expenses for items such as food, clothing, etc. and this will greatly reduce the difficulty of immigrating to this wonderful region. Real Estate in İzmir and Apartments for Sale in İzmir are in high demand among real-estate in Turkey. Local property buyers and Investors are discovering this city as a more comfortable and lucrative city for investment. Izmir has a big influx of property buyers from Istanbul on a yearly basis. The city of İzmir is considered a more comfortable city to live in. A lot of local property buyers decide to retire in this City. Apart from the high demand of local property buyers' foreigners are discovering this exciting city and all it has to offer as well. A lot of European property buyers are purchasing Villas for sale in Çeşme and other Real-Estate in Çeşme.
Festivals in İzmir
İzmir is the third largest city in Turkey and an important commercial and cultural center in the Aegean region. The city is known for its historical heritage, numerous tourist attractions, its special cuisine and a wide range of arts events and festivals. İzmir welcomes tens of thousands of festival lovers to festivals held throughout the year in the city center and throughout the region. Ephesus International Opera and Ballet Festival, organized by Opera İzmir State and Ballet every year, is held in world-famous ancient city of Ephesus in Selçuk and various landmarks of İzmir such as İzmir Cultural Park Open Air Theater. At the festivals, art lovers have the opportunity to see outstanding artists from Turkey and around the world.
Traditional festivals
Traditional festivals also play a very important role in cultural life of İzmir. Hıdrellez Spring Festival, Selçuk Ephesus Camel Wrestling Festival and Bornova Wrestling Festival are the best examples for visitors who want to get acquainted with Turkish culture. Selçuk Ephesus Camel Wrestling Festival is one of the most famous camel wrestling festivals and is held every January. Camel wrestling has its origins in the nomadic tribes of Anatolia, where camels were part of everyday life.
Sports Activities
Major sporting events organized in and around İzmir include Veloturk Çeşme Granfondo, Wings for Life World Run İzmir, Çeşme Weekend Sports Festival, İzmir BayFestival and the Color Sky 5K Runproof.
The Ephesus Theater Festival
This is another event held in the mesmerizing atmosphere of the Ancient Theater of Ephesus, the largest theater in the ancient world, bringing a variety of theater companies to the Aegean coast. The İzmir Foundation for Culture, Arts and Education (İKSEV), which has brought major festivals to İzmir, was established in 1985 and organizes İzmir International Festival and İzmir European Jazz Festival every year. Every two years, İKSEV also hosts Dr. Nejat F. Eczacıbaşı Composition festival. Since 1998, the competition has contributed to the composition of nearly 200 symphonies by national composers, enriching Turkeys polyphonic music culture. İzmir International Festival celebrated its 33rd anniversary in 2020. The festival covers a wide range of classical, traditional and contemporary music. works in music, ballet, theater and opera, including international and national performances, and offers numerous world-famous artists the opportunity to perform in unique historical places around İzmir, such as Ancient Theater of Ephesus, Celcus Library and Odeon in Ephesus, the House of the Virgin Mary, the Church of Saint Polycarp, the Castle of Sığacık and more.
Jazz Festival
Another event organized by İKSEV is İzmir European Jazz Festival, which is a member of European Association of Festivals. The festival offers the public the opportunity to listen to many famous local and international jazz artists. It also offers young jazz musicians in Turkey the opportunity to attend workshops and master classes by established artists.
Film Festivals
Film enthusiasts can also find several film festivals in the city such as İzmir International Film Festival, İzmir International Short Film Festival, 2 Sides International Short Film Festival, İzmir International Short Film Festival, Balkan Panorama and Central European Film Festival.
Art & Culture Festival
Other notable arts festivals and events in and around İzmir are Ephesus Arts & Culture Festival, Karşıyaka Theater Festival, İzmir International Literature Festival, Electronic Festival Çeşme, Çeşme International Classical Music Festival, Sonic Swim Festival, Foça Jazz Days, Çeşme SunJazz Festival, Urla Jazz Festival and Karşıyaka Jazz Festival.
Dining Experiences
İzmir, located on the Aegean coast, is one of the first places that comes to mind when we talk about gastronomy and food culture in Turkey. İzmir is known for its cuisine based on healthy and fresh ingredients. Of course, many food-themed festivals and events are held in İzmir, a city famous for its agricultural products such as olives, figs and grapes. Some well-known food festivals are Alaçatı Herb Festival, International Artichoke Festival of Urla , Mart Dokuzu Urla Herb Festival, İzmir Gastro Fest, İzmir Boyoz Festival, İzmir Coffee Festival, Brewstival İzmir, Shake It İzmir, İzmir Cocktail Festival, İzmir Chocolate and Dessert Festival, Tasting Alaçatı, Urla Grape Festival Festival, Traditional Festival Buca Grape Festival , Kavacık Grape Festival, Gökçealan Grape Festival, Gümüldür Özdere Mandarin Festival and Seferihisar Mandarin Festival. Bayındır International Flower Festival, where growers display colorful flowers and are greeted with great interest by visitors, heralds the arrival of spring in İzmir every May.
İzmir International Puppet Days
İzmir International Puppet Days, one of the most famous puppet festivals in the world, hosts many theater groups with puppets from different countries in different art spaces of the city. In addition, the festival program includes exhibitions, workshops and panels.
Nature in İzmir
The first thing that comes to mind for every tourist traveling to İzmir is the nature of İzmir. The unique nature of this region together with the natural springs and the beautiful beaches makes it one of the most unique places in the world.
Parks
The metropolis İzmir has multiple huge parks, perfect for picknicks or relaxing. In the historical city center of Konak there is Kültür park. In the region of Inciraltı a huge forest and picknick area can be found next to the seaside. In other neighborhoods like Bornova multiple parks are created.
Kış Cenetı
Kış Cenetı literally means "Bird Paradise". There are a total of 289 bird species in 40.000 hectares in this area. According to the latest data the region hosts up to one hundred thousand water birds in the winter months. The area is also home to 30.000 flamingos. The globally endangered crested pelican can be found here as well. Gediz Delta is a much larger area and is a UNESCO World Heritage candidate. Please also see this YouTube episode for more a more complete impression of this region:
Flamingo Tour
Would you like to witness the life of hundreds of birds and living species such as flamingo, crested pelican, and many more in a metropolis like İzmir with a population of more than 4 and a half million? During this Flamingo Boat Tour, you can observe the birds in Izmir's Gediz Delta. The tour is departing from Mavişehir and offers you a unique experience lasting one and a half hours.
Zoo İzmir
İzmir Natural Life Park is the first and largest natural life park in Turkey, established on an area of 425 hectares in the Sasalı region of Çiğli district of İzmir. The Natural Life Park was opened to visitors in 2008. It is perfect to visit with Children and was completed in 2 years together with the resources of the Izmir Metropolitan Municipality. The animals live freely in shelters similar to those in their natural habitat with thousands of trees and plants. More than 1.500 wild animals of more than 130 species live in İzmir Natural Life Park. İzmir Natural Life Park provides a pleasant learning environment for children with some educational workshops. So, it is much more than a classical zoo. For more information regarding the İzmir Natural Life Park you can check our Youtube channel as well!
Nightlife in İzmir
İzmir is one of Turkey's liveliest cities and can be especially fun for those who like exciting night experiences. Since İzmir has a very young population in comparison with other cities in Turkey, there are bars in almost every part of the city. In the center of İzmir called "Alsancak" you can find multiple bars with different music on "Gazi Kadinlar" Street or "Muzaffar Izgü" Street.
Nightclubs
İzmir Arena is Izmir's largest festival, concert and events venue is right on İzmir Bay with beautiful views. Even for non-Turks, it's a great opportunity to see popular Turkish Singers and bands perform here. The Ooze Venue in Bornova often hosts live music performances, making it another great place to discover the Turkish music scene. Container Hall is just that, a giant container that hosts live music events and nightclubs.
The Best Food in İzmir?
Since İzmir is located next to the Aegean Sea, there is a vast number of delicious fish and sea food restaurants all over the province. The locals often go out for Rakı and Balık, which means Rakı (the local alcoholic drink with anise) and Balık is literally translated as Fish. In lively restaurants different variations of fresh fish and seafood are served in combination with "Mezes" which are small cold or hot starters in hundreds of different variations. It is tradition to accompany this delicious food with "Rakı" a "Ouzo" like drink with anise combined with ice and water. One of the main factors why people are purchasing Apartments for Sale in İzmir or other Real Estate in İzmir is the amazing food culture in the province of İzmir. Apart from the previous mentioned fish restaurants there are numerous other concepts. In the rustic town of Urla a lot of farm to table restaurants can be found with delicious dishes made from locally sourced products. Urla is famous for its vineyards and amazing local wine as well. Since the province of İzmir has a rich history of different cultures, this reflects in the food culture as well. Restaurants with different flavors can be found and the relatively young population is open minded to new concepts.
What street food is famous in İzmir?
Kokoreç
Kokoreç is popular street food in İzmir. It is made from lamb intestine intestines. The most popular for this dish are suckling lamb casings. It can be found on almost every street in İzmir.
Kumru
Kumru is a Turkish sandwich, usually with cheese, tomato and sausage. The name of this street food means "pigeon" and derives from the shape of the sandwich. The original kumru was ring-shaped and covered in sesame seeds. The current one appeared in the mid-20th century and became very popular afterwards. The secret of its popularity lies in its tasty and soft bread, especially made by some local bakeries.
Boyoz
Boyoz is a Turkish from Jewish origin pastry, associated with İzmir, Turkey, which is practically the only city where it is prepared according to the original recipe. Thus, in the eyes of people from İzmir, Boyoz became a symbol of their hometown. The most popular boyoz is plain, with no added meat, cheese or spinach filling, and is made by a handful of master boyoz bakers in İzmir.
Söğüş
Cold cuts, one of the traditional street delicatesses of Izmir, are appreciated by a lot of locals. Cold cuts made from the brain, tongue and cheek parts of a lamb's head are finely chopped and blended with fresh greens and onions after adding spices.
Lokma
There are different types of Lokma in Turkey. Lokma desserts are made from flour, sugar, yeast and salt, fried in oil and then dipped in syrup or honey. In some regions of Turkey, Lokma are eaten with cheese, similar to breakfast sandwiches. İzmir lokması are donut shaped with a hole in the middle. The ball is called Palace Lokma. Traditionally, forty days after a person's death, the close relatives and friends of the deceased cook large quantities of lokma for neighbors and passers-by. People line up to get a plate and recite a prayer for the soul of the deceased after eating the Lokma.
Popular Sports clubs of İzmir
İzmir has a lot of sport clubs. The most popular ones are the Göztepe football team and the Karşıyaka football and basketball team. These teams are quite successful in national competitions and have a huge fanbase, needless to say is that any match of these teams are spectacular events with an amazing atmosphere.
Frequently Asked Questions Regarding Living in İzmir